Through Europe
2-Sep-2005
We arrive at 5:30 in Warsaw, after a small breakfast at the station to get change for the locker, I head into town. I take a wrong turn because I didn't really looked at a map and actually walk away from the old town. However I pass through some interesting areas and change directions again into a green district with loads of Embassies and a huge park. I feel a bit lost but somehow my instincts are telling me that I will hit the river if I continue walking this direction, and finally I do. It's a beautiful day, it's still before 8 and already hot in the sun. I walk at the embankment for an hour and it's all very green. The city wasn't built close to the river as so many other European cities are. The old town is nice and very empty, it feels like a small town but not like a European capital. For the rest of the day I stroll around town back and forth between the different neighborhoods. By 5 I'm getting really tired and head back to the station and do some shopping for the upcoming 33 hours train ride. Poles smoke too much and it wouldn't heart them if they would smile once in a while. There is a general lack of friendliness.
1-Sep-2005
I spent a week with my family in Bremen, recovering from my kidney problems. Occasionally I was still in pain and even considered to cancel the whole trip, but a visit to a specialist and another Xray gave me the green light. Next was hamburg were I met up with some old friends. I also went to see the last indiepop gig for some time: Sweden's Douglas Heart. It was a nice performance from the Labrador band but nothing too exciting. On to Berlin, I stayed with my old friend Melanie and her cat Oslo, we pretty much stayed in an talked and watched a French movie.
Today I did some sightseeing in Mitte (central Berlin district), even there, there are places I hadn't been before. I spend more time with Melanie and then visited my friend Uwe for the latest news in the indiepop world before heading out of Berlin. When boarding the night train at a the small station Berlin-Lichtenberg it really felt my journey finally begun. The compartment is small and has the levels of bunk beds, all are occupied and there is not much space. I can hardly sleep all night and hope this gets better soon.
23-Aug-2005
London to Bremen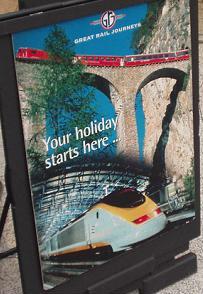 The Brookfield Lodge, my little house in North London feels very empty, I had moved all my stuff into storage the weekend before and all that's left is a lonely backpack in the corner that I will take on the trip. I take the 214 down to Kentish Town tube station and on to the Northern line to Waterloo where I arrive early. I stroll back through the Shell centre to the Thames to have a final look at the embankment in the morning sun. The 2 hour 15 minutes ride to Brussels through the channel tunnel is uneventful, the Kent landscape is certainly more interesting than the one in Northern Belgium. The area around the Brussels Zuud station is pretty grim and due to my health condition I decide to cancel my planned 4 hour stay in Brussels and move on towards Germany. Talking about health, 11 days prior to my departure I woke up in the middle of the night because of strong pain, after a while I decided to walk over to the hospital on the other side of Hampstead Heath and after some checks and X-Rays they decide to keep me there. It turned out I had a stone in my right kidney. A few days later they removed it but the whole thing wasn't very pleasant. On the 22nd I had to go back for another procedure but I spare you the details. Pain killers would be required for the next few weeks.
Back to Belgium, I had to change trains in Liege but when we reach Li?ge Guillemins station is doesn't look like a main station and I stay on the train. I remember the main Liege station from a previous trip and that was very different. It turned out that was my stop and we left Liege heading into the Ardennes hills. This was a beautiful ride but I panic a little because I am now on the wrong way and the conductors disappeared. We are in the heard of Europe and no one speaks English. So maybe I should reconsider my plans to travel by train through China for six weeks if I get lost in Belgium. After 35 minutes the train terminated in the small town of Verviers. I check out a map in the station and it wasn't all that bad, in fact I was still on the right track to the German border and a train to Aachen leaves in another 30 minutes. I walk around a bit and meet a young Asian girl who is also lost and again even the young people don't speak English. We manage to find her bus stop and even a time table, so she can catch a bus to a small village nearby. Before she leaves she shows me the photo she wears around her neck, it's the new German pope. Later in Cologne I see thousands of young people with his photo, there was a huge young catholics from around the world gathering in the city. Good for them, I just started my very own pilgrimage.